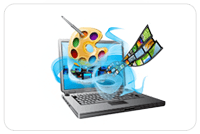 Web Solutions & Website Designs - Doha, Qatar
Your search for a web designing company in Doha, Qatar ends here. At Trans Media International, we specialize in creating and maintaining impressive websites with rich look and feel and content. With years of experience & expertise, our creative team specializes in responsive and dynamic website designs. We carefully study and analyze your company objectives and requirements and then plan to design a professional website that reflects the company's business interests. We maintain the highest standards to deliver beyond your expectations.
Our Expertise & Services are as given below:
WordPress Web Design and Development
Custom PHP, MySQL
Content Management Systems
HTML5, CSS3
Search Engine Optimization
Online Marketing
As one of the leading web development company in Qatar, we work together with our clients to create great looking websites. These websites offer best value for money spent and offer good return of investment. At the end of the day, we believe in partnering with our clients the value of great design, good user experience and of course, long lasting relationships with our clients.
10 Good reasons to choose Trans Media International WLL for Web Designing in Doha

User friendly sites - We keep it simple, clear, clean and to the point.
SEO friendly with proper HTML tags, with the least load time possible.
We create safe and secure websites.
Appealing designs and contents to keep the customers engaged.
Reach Us page with proper email interface.
Our dedicated team of Web developers and designers offer customized web solutions.
We use latest web development technologies to create error free websites.
We specialize in Responsive technology.
Our happy customers in Doha are testimony to our services.
Our prices are very reasonable for the professional services offered.
Get in touch to re-design your old website or creating a new website at affordable prices in Doha.
Call us: 44 180 137 or
email: info@transmediaintl.com
For any queries, kindly check our FAQ page.